Return to Catalog.
Wurlitzer P10 Juke Box Repair
Wurlitzer "Simplex" Coin-Controlled Automatic Phonograph
Model P10 1934
Main Drive Gear.
Main drive gear worn out
New main drive gear installed
Coin trip switches replaced
The 100 Watt light bulb flashes each time a coin momentarily closes the coin switches. The light bulb limits the current flow to the coils that engage the magnet in the multiple coin device.
Multiple coin device
Chassis inside JukeBox
Chassis removed exposing the main drive gear
Separation of the chassis
Operational P10 chassis
Operation of the Wurlitzer P10 jukebox
This repaired Wurlitzer P10 model was shown on the Antique Road Show on PBS season 19 in Austin, Texas 2014. Click on the photo below to view the jukebox demonstration.
Vadax Radio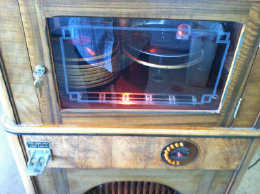 When the coin switch energizes the magnetic coils the serrated wheel rotates signifying a selection has been made. A maximum of ten selections can be stored. New magnetic coils were installed.